Learn More About the Volkswagen TSI Engines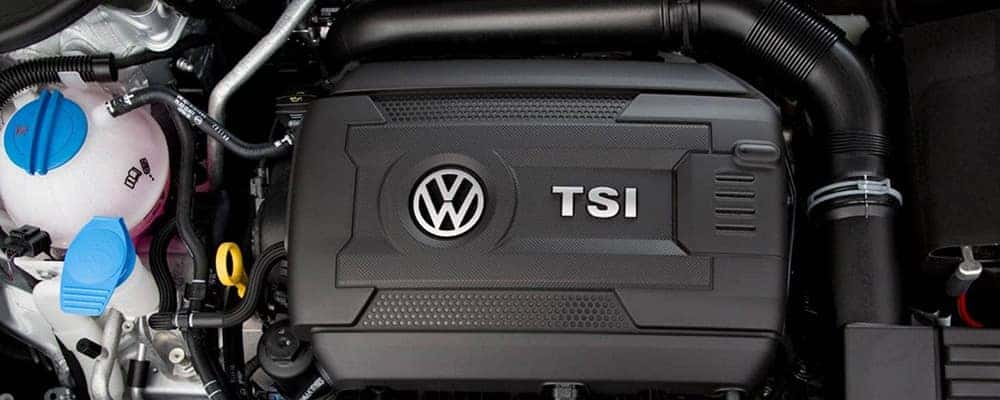 What is Volkswagen TSI?
If you've kept up with improvements to Volkswagen vehicles throughout the past few years, you've probably heard of Volkswagen TSI engines. So, what is Volkswagen TSI, exactly? The least complicated answer is that VW TSI engines are the gas equivalent of the TDI engine, offering higher performance with less fuel consumption. Drivers may be aware that their TSI engine is a gas Volkswagen engine, but they may not know how this engine offers advantages over other gas engines.
TSI stands for "turbocharged stratified injection" and was inspired by the Volkswagen TDI Clean Diesel and FSI direct fuel injection engines. The engine allows for higher torque at lower RPMs, which means more power with less fuel usage. TSI engines combine direct injection and turbocharging to offer impressive power while still providing incredible fuel efficiency.
Which Vehicles Come Equipped With TSI Engines?
An example of an efficient, high performing TSI engine can be found in the 2019 Volkswagen Jetta TSI. The base model of the Jetta is equipped with a 147-horsepower 1.4L turbocharged 4-cylinder TSI engine which can put out 184 lb.-ft. of torque. Despite this power, the Passat still reaches a 30 city and 40 highway miles per gallon, according to EPA estimates. State-of-the-art TSI technology is one of the most important factors contributing to the impressive Jetta performance.
There are numerous versions of the TSI engine available here in the US. The original TSI lineup included the 170-horsepower 1.8T 4-cylinder and the 210-horsepower 2.0T 4-cylinder, both of which achieve over 180 lb.-ft. of torque. Today, the TSI engine design is available across the VW lineup, in models as varied as the Jetta, the Passat, the Golf hatchbacks, and the Tiguan SUV. Even the modern VW Beetle and the soon-to-be-released VW Arteon have been equipped with TSI engines! Although exact capabilities and specifications will vary from model to model, each TSI engine delivers impressive power without compromising fuel economy. This means when it comes to either a fun ride or an efficient ride, the Volkswagen TSI engine provides the best of both worlds.
So, TSI engines are now standard in the majority of 2019 VW models. In fact, if you want to know exactly what's under the hood of the vehicle you're considering, the better question just might be, "Which VW vehicles do not come equipped with TSI engines?" While most models do carry to TSI, the off-road ready Golf Alltrack wagon features a direct injection engine. The three-row Atlas, the heaviest vehicle in the VW lineup, features a turbocharged version of the FSI engine. If you want to make sure that your next new Volkswagen has the engine that you desire, talk to an expert on the Jennings Volkswagen team!
Learn More with Jennings Volkswagen!
If you would like to learn more about Volkswagen TSI engines and the fuel-injection technology that sets them apart, stop into Jennings Volkswagen. You can chat with our friendly and knowledgeable staff and even take a Volkswagen vehicle equipped with a TSI engine for a test drive. Volkswagen technology is constantly changing and always improving, and we can't wait to show you how the TSI engine continues to improve. Contact us today to schedule an appointment or ask your questions!
More Volkswagen Model Features