How Do You Change a Car Tire?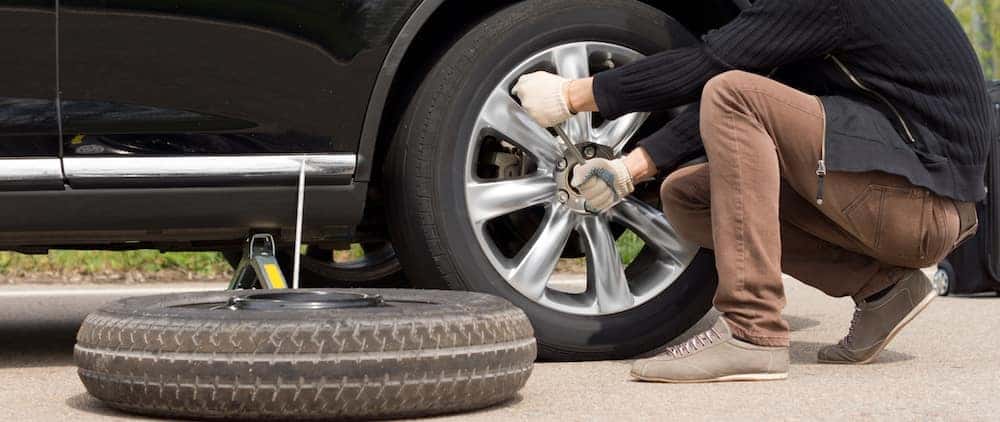 ---
If you encounter a flat tire while commuting through Chicago, or your tires have worn down and do not have the proper tread levels, it can be helpful to know how to replace tires on your own. So, how do you change a car tire? It's not as difficult as you may think! Jennings Volkswagen would be glad to show you how to perform this maintenance task without the help of a professional.
Changing Your Volkswagen Tires
Before you can get started, there are a few supplies that you will need: a jack, lug wrench, spare tire or new tire(s), and your owner's manual. Once you have all of the required items, you can begin the process.
If you need to replace a tire while you are running errands in the Northbrook area, pull over to a place where it is safe. It is a good idea to put on the hazard lights as well.
Apply the parking brake and place the wheel wedges under the other tires.
Take off the hubcap or wheel cover to loosen the lug nuts.
Raise the vehicle using the jack. Now you can take off the lug nuts.
Take off the tire that needs to be replaced, and put on a spare tire or a new tire.
Tighten the lug nuts and carefully lower the vehicle to the ground.
How Often to Change Car Tires
Do you know the signs that it is time to replace the tires on your vehicle? The lifespan of your tires can vary depending on your driving habits, how the tires were made, and how well you maintain them. If you rotate your tires regularly, your tires should last for quite some time. It is beneficial to keep an eye on the condition of your tires, though. If you measure the tread and find out that it is less than 2/32 of an inch, it can be unsafe to drive. It is best to get a new set of tires as soon as possible. Once you get new tires, you want to make sure they last to their full potential. One way to do so is to schedule a tire rotation when you get your oil changed.
How Many Miles Can You Go on a Spare Tire?
If you put your spare tire on your vehicle, keep in mind that you are not able to drive on a spare for very long. Usually, the maximum distance is about 50 miles. You should also not drive at speeds higher than 50 mph. Be sure to look at the limits for your specific tire.
Contact Jennings Volkswagen Today
If you still prefer to leave tire replacement to a professional, you can always set up an appointment at Jennings Volkswagen. We would be glad to assist you or answer any questions that you may have. Contact us today.